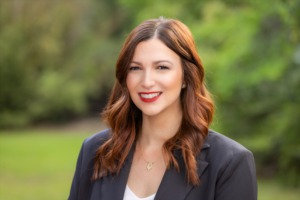 Five years in retail management gave Caitlyn a particular set of people skills that made her transition into real estate an easy switch. She began as David Gleason's administrative assistant, quickly working her way up to team manager when, early on, her talents were noticed. She understands customer service - returning calls at lightning speed and streamlining processes like switching communication methods that match the clients' styles in order to better accommodate them.
She has been a licensed REALTOR® and a member of the REALTORS® Commercial Alliance since 2013. Caitlyn has served as vice president of a local non-profit called Cajun Paws Rescue, rescuing and placing Pitbull/Pitbull mix breeds into safe and loving homes. She has also served on the board of The Lymphoma & Leukemia Society's "Man of the Year" campaign.
Caitlyn holds a degree in Business, with a concentration in Marketing, from the University of Louisiana at Lafayette. She is an avid football fan, with season tickets to Saints, LSU, and ULL games. In the off season, Caitlyn enjoys traveling, attending concerts and relaxing at her own prime piece of real estate-their camp on the water.