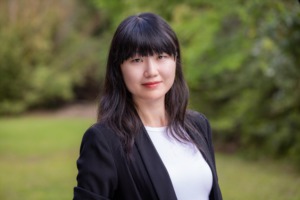 Born and raised in Beijing China, Grace graduated from The Union University with a Marketing Degree.
After a Cosmopolitan car magazine shoot at a young age, she learned that modeling was not meant for her. In order to pursue a sustainable career, she followed the Chinese internet's recommendation and downloaded three-season audio tracks and scripts of the American drama series Desperate Housewives, soon when she learned how to talk like Americans, she landed a job marketing for Porsche. Hustling many days and nights on tracks, road trips, golf courses, and new car launch events, Grace has been well-trained by the most detail-oriented system, officially becoming OCD positive for her professionalism, who constantly strives for perfection. 
When Grace's friend, a Canadian celebrity chef, invited her to help with his bar/restaurant business, Grace left her current job and jumped into an unknown world with excitement and full dedication, serving numerous Sazeracs and old-fashioneds as a mixologist, which were the most fun memories in her life. Later she left Beijing and began another adventure in life, "Coming to America".
Six years indulging Cajun culture and foods in Lafayette, Louisiana, Grace decided to venture into her career in Real Estate, soon enough, she found herself fascinated by commercial Real Estate, she enjoys having conversations about businesses and investments, and she truly believes as a professional to succeed in commercial Real Estate, is to help her clients to succeed. Admiring the reputation that The Gleason Group has held up in the local industry, Grace decided to join the Gleason family.
An artist Wanna-Be, Grace rarely burns food in the kitchen when she is experiencing cultures through cooking, her garden is full of herbs, and they can self-sustain without a green thumb she is sure about it. Lives among one lizard, one tortoise, and many outdoor cats, she is also thinking about getting a tiny spider as a pet. Her favorite thing to do is enjoy outdoor life with family, hiking, and foraging in the wilderness.