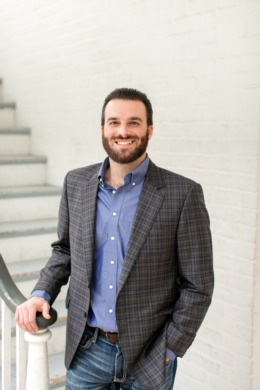 Will Taylor is a man of many talents! Before becoming a part of the team at The Gleason Group, LLC, Will earned his Bachelor of Science in Business Administration from UL Lafayette. While in college he ran a small, start-up I.T. company and managed a local restaurant! This business background has been as asset for Will in his real estate career.  His diverse experience gives him the opportunity to assist his clients with multiple real estate needs, including commercial and residential. Will also buys investment properties and has teamed up with his father in remodeling and selling homes together! Being a part of this father/son team has been a great experience for Will and he'd love to share his knowledge with new clients who are also interested in a house-flipping project of their own!
Will is also an avid sports enthusiast and enjoys playing and watching basketball, football and golf! He loves spending time with his family, friends and girlfriend, Sarah, and has two Border Collies, Jett & Jackson. Will finds motivation in meeting the personal and professional goals he sets for himself and realizes that each new day brings a fresh set of opportunities that challenge him to be better than he was the day before.  In fact, one of his favorite quotes is by Eleanor Roosevelt: "If life were predictable it would cease to be life, and be without flavor." He is most happy when he sees the results of his hard work paying off, whether that's helping his clients find their dream home or perfect location for their business, or just seeing people succeed in general! Will also enjoys being around his co-workers and getting to collaborate on deals together—he's a true Team Player!
Will's core values closely align with those of The Gleason Group. He lives by a code of reliability, efficiency and most importantly, honesty. Will holds himself personally accountable for every word he speaks and every action he takes, both in his personal life and professional career.  Being able to trust someone, truly trust them, is a characteristic that is hard to find these days and Will believes that every person deserves to be told the truth. He takes great pride in representing his clients on both sides of the closing table and is always looking to build new relationships, so call Will Taylor for your next real estate venture!